Blog
Here is where we share stories, insights, and training about Innovation and what's happening across the movement in this vital area.
Categories

When Covid entered our lives and changed the world as we knew it, the Innovation team set out to foster a space where new ideas for the new world could be captured and grown. The "Idea Share Space: The New World" was born.
Out of this initiative came a concept called Coffee With God, a platform where you're invited to join the conversation through weekly devotional content, videos discussions on various topics, go deeper in your own journey and engage, of course, in conversation with God. It is designed to help you sit with God and understand the principles of living in the Kingdom.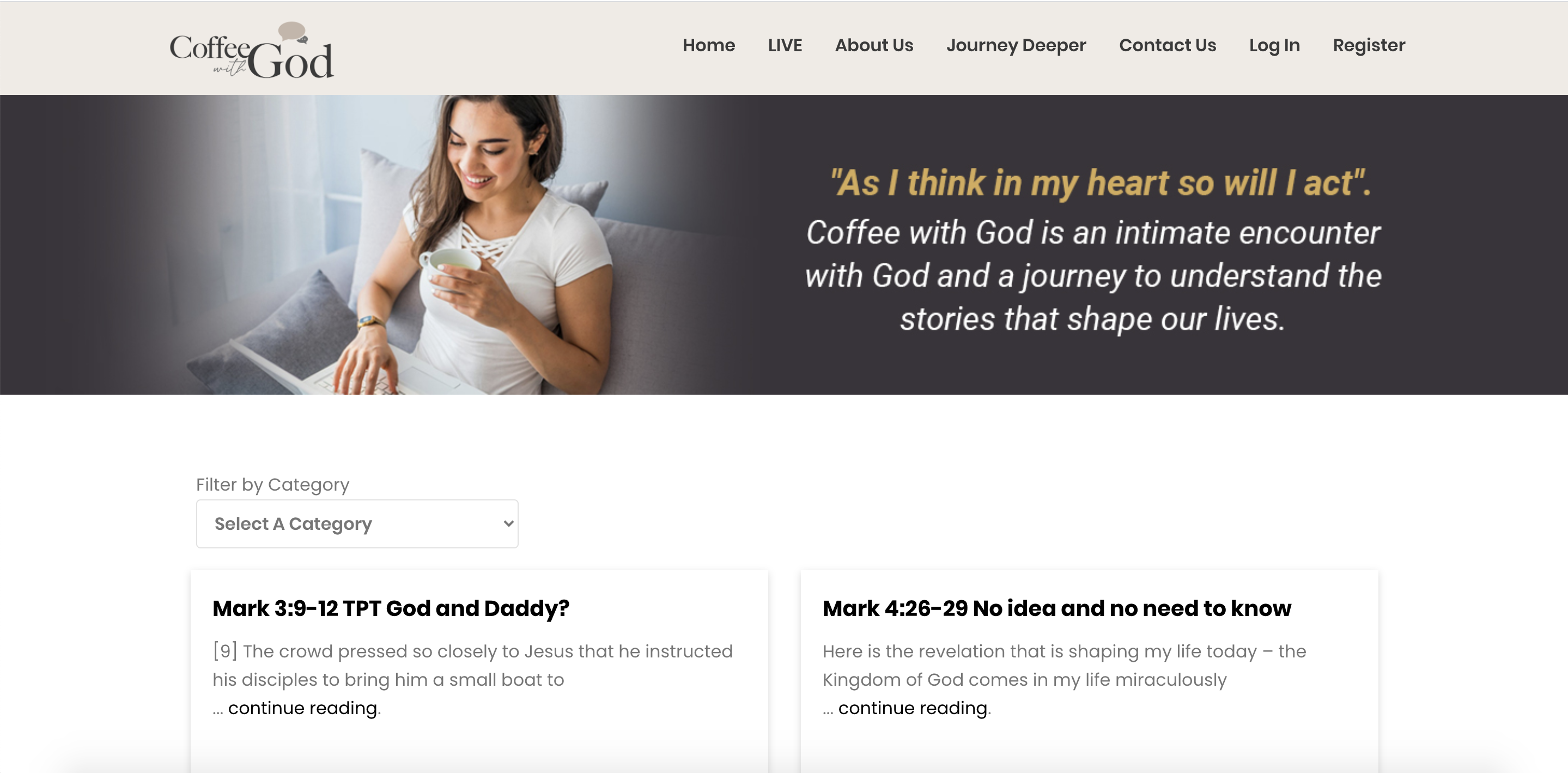 This platform is now available for everyone to participate in. There are two ways we encourage you to do this:
 As an opportunity to help facilitate your Kingdom life rhythm. Don't read them, 'Coffee with God' them (that means have a conversation with him over what is raised). They are designed to be read in a few minutes to allow time for you and God to chat.
As we know it is not always easy or appropriate to invite friends to our church gatherings, and people are much more open to receiving online shared resources from friends as they are easier and less confronting for them to engage with. So, Coffee with God is designed to be easily shared. As you read the weekly posts ask the Holy Spirit who you should share this devotional with or invite your friends to register and journey with them as you engage with the weekly posts.
We encourage you to take 2 minutes and register via www.coffeewithgod.com.au. Then every time a new post goes onto the site you will receive an email to invite you to engage.


Original post can be found here: https://medium.com/@signifyphil/leading-in-a-waist-up-world-c03e933c137f
There have been many quotes from leaders during this crisis. Some memorable and others, thankfully, forgettable. One of the most profound belongs to Deborah Birx. Dr Birx, a leading immunologist, army colonel and the co-ordinator of the White House task force on Coronavirus declared, "There's no magic bullet, there's no magic vaccine or therapy, just behaviours".
Leadership of late has become a more digital affair. Unable to get to the office, let alone travel overseas, we commute to cyber space, working on Zoom, Hangout or MS Teams; other platforms are available. I wonder how many of us have adopted the news anchor strategy, wearing formal attire above the desk and fluffy slippers and pyjamas beneath (mine are only slightly fluffy!). While we can get away with inconsistency in our dress, where our behaviours are concerned, there is no such luxury. At times like these, good leadership is good behaviours.
To this end, here are a few important behaviours to think about in these challenging and uncertain times.
Fear Management: This competency is hugely important in the current context. Research shows that we all have a different appetite for, and tolerance of, fear or risk. If we are not careful, fear can become the unwelcome additional member of your board or leadership team, seated firmly around the table but rarely identified or called out. In times when anxieties run high, it is vital that we acknowledge the presence of our fears. By naming and sharing our anxieties out loud, we remove the shame that we feel inside and begin to strip fear of much of its power.
As a Policeman I remember how different colleagues reacted to anxiety and fear when confronted with violence. Some stood up and confronted it, others froze and some occasionally ran away. What was clear was that different individuals have a different capacity to deal with anxiety and fear. The best leaders I have served under, recognised this and personalised their leadership and management accordingly. As leaders, our job is to help others to acknowledge and own their fears, support them and ensure that these fears do not grow into anything bigger.
Pause: Many of us get things done by answering quickly, acting expediently and moving swiftly. While this may be a secret of our success, many leaders I work with need to learn to pause more. Pressing pause gives way to better listening, deeper enquiry and greater curiosity. In times of crisis, time speeds up and it becomes more difficult to press pause. However, the truth is not every issue we face is a matter of crisis and adopting a more reflective posture will allow us to ask deeper, richer questions and ultimately find better solutions.
Tone: The numbers are well known. 50% of our communication is body language, 40% is tone of voice and only 10% comes down to words. On a video conference, tone is often all defining. As we lean into our screens, a slightly aggressive statement, a rolling of the eyes, a dismissive comment or off-the-cuff remark can be really damaging. Relaxation and informality are great but must not lead to lazy thinking and bad habits. We need to be mindful about how we come across in a medium which often dulls our people skills and may amplify some of our weaknesses. Choose your tone and hold it.
Self Care: A friend of mine is fond of saying that. "If you are preaching measles but carrying mumps, people will catch the mumps". What we model to those we lead is of profound importance — positivity, calmness, openness, hope, generosity etc. In the same vein, if we want to care well for others, we have to take care of ourselves. I recently heard of a leader who opened a meeting by talking openly about how they were managing their own anxieties and fear of recent days. Managed the right way this is excellent leadership. At this time, we need leaders who are self-aware, have the courage to embrace vulnerability, disclose struggle and embody the empathy to stand alongside others. Remember to be kind to yourself and let it be known that you are.
What is happening in the outside world is beyond our control and this will probably be a long haul journey for leaders. So, remember when it comes to leading in a waist up world, there's no magic bullet, there's no magic vaccine or therapy, just behaviours. So behave!

The values embraced by the world have taught us that life is about individual freedom, competition, continuous consumption, pleasure seeking and entertainment. This is the 'good news' of 21st century society.
The values of God's kingdom call us to a counter-cultural life of generous community, contentment, self-control, service, patience and love for others.
In the coronavirus pandemic world, this is a genuine opportunity for mission – for sharing the love of Jesus – and creating a pandemic of love.
This is not the time to retreat in fear and anxiety, but a time to trust God and live out our calling to love and serve others. It may be time for 'physical distancing', but it is not the time for 'social distancing'.
Here are 10 simple ways to continue to engage in mission in our changing world:
Connect with your neighbours
The staff of Stanmore House, a Salvos Conference Centre in Sydney, hit the streets to show love to their community, dropping a gift of toilet paper and a card to the doorsteps of their local neighbourhood. The card read, "If you are self-isolating we are here to help!", with details including contact phone numbers. You can download the card here from My Salvos Toolkit. https://my.salvos.org.au/toolkit/resource/covid-19-coronavirus-prayer-resources/1793/
Some people will be self-isolating, quarantined or unable to get out to shop for groceries and other essentials. If you know an elderly person, or someone who is more vulnerable, offer to do their shopping for them.
Read God's word, pray and grow in our walk with Jesus
In a time of uncertainty and increased isolation, what better time to draw near to God and be reminded of his character, promises and steadfast love. This will equip us all to be less anxious, open to the Spirit's leading and ready to serve others.
Give someone a call
Commit to calling a family member, neighbour, work colleague or contact from your corps to see how they are going and asking if there is anything you can do for them. If a call is too difficult, send an encouraging text and ask how they are travelling.
Take care to protect the most vulnerable
Take potential risks seriously and respect health and food guidelines from the health and government authorities. Look for ways to adapt what we do – to clean our facilities regularly, use hand sanitiser and provide takeaway-wrapped food and non-perishable groceries. This might not look exciting but it shows that we value people enough to take good care of them. It is an act of love.
Get along to a Woolworths store
Woolworths announced that from Tuesday 17 March until at least Friday 20 March it would give the elderly and those with a disability a 60-minute window from 7am to shop freely, in a less-crowded environment. Uniformed Salvos have been invited to assist by getting groceries back to people's cars, pushing a trolley, or in other practical ways including getting items that are high on shelves and putting the packed bags at the checkouts into trolleys. Get along and speak to your local Woolworths manager and see how God leads. To read more go to: https://others.org.au/news/2020/03/18/supermarket-salvos-to-the-rescue/
Support your local businesses
Local businesses are going to struggle and people are at risk of losing their livelihoods. Where you can, be generous, ask after their well-being and keep supporting your local cafes and stores.
Show hospitality
Invite people who might be feeling lonely to your home for a meal. Don't shake hands or give them a hug, but you can still share a meal and conversation together over the table. Say grace, listen to their concerns and show God's love by opening up your home and giving people time – and a meal.
Walk in the park, play with kids, listen to music
In the late 1940s, C.S. Lewis wrote an essay in response to the nuclear threat that people lived in fear of. He wrote: "If we are all going to be destroyed by an atomic bomb, let that bomb when it comes find us doing sensible and human things – praying, working, teaching, reading, listening to music, bathing the children, playing tennis, chatting to our friends over a pint and a game of darts – not huddled together like frightened sheep and thinking about bombs. They may break our bodies but they need not dominate our minds." — 'On Living in an Atomic Age' (1948) in Present Concerns: Journalistic Essays. If you replace the words "atomic bomb" with "coronavirus", the writing of Lewis remains true for God's people today – and a missional witness to Jesus and the fruit of the Spirit.
Worship in different ways
Corps are gathering for worship differently in these days. This includes in pairs or triplets for prayer and Bible reading; in small groups in homes; and via live-streaming. The Salvos also have a subscription for all with Right Now Media that allows access to a wide range of video resources for adults, youth and kids. If you are interested, contact missionsupport@salvationarmy.org.au
Whatever you do each day - do it with love
Let's create a pandemic of love!
Rod Yule is General Manager, Local Mission Delivery and Resources, Mission Support, The Salvation Army Australia Territory.

On the 4th of February, the Innovation Team hosted the RDL Pitch Event for the Faith Challenge at Eva Burrows College. The event was a great success with several of the ideas receiving funding and entering into an Incubation/Trial phase.
We'd like the thank our great panel of judges,  Major Darren Elkington - Assistance to the Chief Secretary, Sandra Mclean - Faith Communities Development Secretary, Kate Baudinette - Associate Corps Officer Camberwell and Monica Lenko - Executive Manager Strategy and Planning EPSM.
Below are the outcomes of the pitch event.
The Pitch Panel agreed that creating community in schools, and TSA being visible and engaged in the life of schools, was of high value, and wanted to congratulate the team on their efforts this far.
Future support:
The innovation team will continue to journey with Peter and team to:
 - develop the manual, the playbook for how to rollout this opportunity into other interested locations.
 - to explore the expansion into 2-3 other test locations.
 - to explore strategic partnerships to enable the engagement of a committed resource to rollout the strategy to further locations.
Freedom Solutions
The Pitch Panel enjoyed the rigour of the conversation this idea created. The opportunity to meet the public in a place of healing in the name of Jesus is an exciting prospect to be explored.
and unnecessary risk to the brand have been well considered and minimised where possible.
Future support:
The innovation team will continue to journey with Craig and team to:
 - Put together a project plan that considers the below critical elements:
1. Finalise the development of the training material and navigate the appropriate approval processes.
2. Design the website to ensure that what is being offered is clearly articulated and understood by the community we are wanting to serve.
3. Design the accountability measures to support those engaging in the delivery process.
4. Design the appropriate measurement criteria and supports.
5. Design the public facing promotional materials.
6. Engage with any legal requirements.
The Pitch Panel also considered it be advisable to ensure that Community Engagement (Claire and Marcus) and Stuart Glover had visibility over the project.
Allocated Budget:
$15,000 project management. An appropriate project manager will be appointed to the project.
The Pitch Panel passionately supported the creative work and passion of Richard on this idea. The future full development and rollout is desired.
Future support:
The Innovation team in conjunction with Sandra mission support will continue to support the delivery of the project.
Allocated Budget:
Further work is required to develop an appropriate budget to ensure success. Greig Whittaker will speak with the below to put together the budget allocation.
1. Salvo Stores
2. Mission Support
3. EPSM
4. Ideas Development grant.
The Pitch panel supported the concept of TSA being engaged in the online holistic wellness landscape with a clear focus on the development of faith pathways and faith communities.
Future support:
The innovation team will support the project into the next phase of research.
Allocated Budget:
Research budget of $20,000

By being both innovative and faithful to tradition, we follow the pattern of the creating and redeeming God of Scripture, writes C. Kavin Rowe.
Churches, schools, businesses, families -- all areas of human life -- face the question of how to live toward the future in light of the past. Leaders will live out their answer to this question by the way they conceive of the world. Inevitably some will say "everything must change" and others,  that "things ought to be done as they always have been." But neither is a real or even desirable option, for the world in which these pronouncements make sense does not exist.
Considered theologically, the future and the past belong together, tradition and innovation hand in hand. Traditioned innovation is a way of thinking and living that points toward the future in light of the past, a habit of being that requires both a deep fidelity to the tradition that has borne us to the present and a radical openness to the innovations that will carry us forward. Traditioned innovation names an inner-biblical way of thinking theologically about the texture of human life in the context of God's gracious and redemptive self-disclosure.
The Bible is a vast, sprawling book replete with countless winding trails. Navigating its story is best done with a compass whose points are creation, fall, election, redemption and consummation -- the theological framework in which traditioned innovation gets its meaning.
Creation: Creation is the original innovation. God begins the world's life out of nothing. Creation is thus the moment of givenness, that which provides the "tradition" upon which all human innovation is founded and dependent -- the giving of life by God. We cannot make ourselves. In the face of modern claims to self-autonomy, self-made people, radical freedom from limits and the like, the book of Genesis lays bare the fact that we are always preceded. All human endeavors enter the world in a context of a fundamentally prior reality. In this sense, failure to attend to the traditions that come before us and shape us is a failure to acknowledge the depth of our dependency as created beings.
The flight from givenness inevitably involves wreckage because it wipes away an essential feature of what it means to be human. The attempt at "pure innovation," the doing away with all tradition, is ultimately an inhuman and impossible endeavor, one that shapes its practitioners and victims alike into something far less than human beings were created to be. Pure innovation simultaneously negates the givenness that underwrites human existence as such -- the fact that we are here at all, rather than not -- and the ethical demand of this givenness: the need to recognize our historically and materially deep ties to all created life. From first to last, human beings are tradition-dependent.
Fall: The narrative in Genesis of the fall powerfully illustrates that the givenness of creation is no longer simply good. It has become fractured by our refusal to acknowledge our ultimate dependency on the world God made and our attempt to become self-made creatures -- as the Bible puts it, "to know as God knows." Recognizing the destruction that occurs when we deny our embeddedness in created life should cause us to be wary of attempts to dispense with everything in the past (regardless of the particular shape or kind of institution). "Everything" cannot change. We cannot rid ourselves of the world.
And yet, the fall also points directly to the necessity of innovation. Tradition is no longer sufficiently sustaining in itself. We cannot simply declare, in imitation of God's view of original creation, "this is good." And, therefore, we cannot fully rest. We must toil and move on. The character of fallen creation forces us to improvise, to try to move again within the goodness of God's originating purpose. Innovation thus becomes a necessary way of life in a world of sin and shortcoming, of brokenness and the need for new life. Adam and Eve must make their way outside the garden.
Election: The election of Abraham illustrates paradigmatically how God responds to the way we have marred the goodness of the gift. Instead of destroying his creation, we can see God's overarching response in the Old Testament in the calling of a people whose vocation is at once to embody the enduring goodness of the gift and to testify to the universal need for redemption. God does not, that is, simply scrap the world and make it all over again. Rather, God innovates. He responds to the brokenness of the world with a creative, new act -- indeed, one that could not, at least on the face of it, have been anticipated from the primeval history in Genesis.
This divine pattern of innovation on the basis of tradition is repeated throughout the Old Testament, perhaps most apparent in the giving of the Torah (Law). The Torah is the defining feature of Israel's life. Israel would be indistinguishable from the nations without it. But this does not mean that the Law was seen as a static deposit of rules -- a kind of inflexible, unworkable and ultimately unlivable way of life. To the contrary, the mere existence of the book of Deuteronomy -- the name literally means the "second law" -- presses the point that to know the Law rightly is to grasp its fecundity for new situations. The Torah is living tradition. As even the author of Lamentations might have put it, the Law is not only tradition from of old. It is also new every morning.
Redemption: To think about redemption in the biblical sense is to see that this divine pattern of "newness without completely throwing away the old" culminates in Jesus Christ. According to the New Testament, God recreates the world in the life, death and resurrection of Jesus of Nazareth. Those who live in the pattern of life made possible by this death and resurrection participate most fully in the newness of the world. Whoever is in Christ, says Paul, is a new creation (2 Corinthians 5:17). In Christ, that is, the innovation of God is at its peak. In Christ, he remakes the foundations of human life in the very midst of the ongoing, long-running and everyday traditions of the world.
Yet the discontinuity -- the creation of a new world -- includes, rather than excludes, a continuity with what preceded Jesus. The Law and the Prophets testify to the coming of the Christ, even as that coming itself provides a new foundation on which the life promised by the Law and Prophets ultimately depends. Christ is not the "end (telos) of the Law" (Romans 10:4) in the sense of terminating it or displacing its reality, but is instead the deepest purpose or goal (telos) of the Law, that toward which it points or strives. In short, new creation does not abrogate the old but takes it up inside the new and in so doing remakes it. Tradition literally is made new on the basis of God's innovation.
Focusing on redemption thus discloses a productive tension that marks all life until the end. To remain in what is already known of the tradition is to refuse the priority of new creation; and yet, that which is new includes the old. Radical innovation? Yes. Radical continuity with tradition? Yes.
Consummation: Consummation points to the hope that creation and redemption will finally coincide, that the world's traditions will, as it were, catch up with the reality of a cosmos remade -- that God's founding innovation and tradition will be one with his most radical innovation in Jesus Christ.
Thinking about traditioned innovation in light of the hope of consummation shows that tradition and innovation are not finally two different ways of being in the world. They are instead a helpful way to speak about the fundamental manner in which the Triune God graciously relates to the world he made and to which, in the face of its profound brokenness, he remains everlastingly committed -- anew. We cannot think, therefore, that tradition and innovation are opposites. In the Bible, tradition and innovation are realities of our common human life, inseparable aspects of participating in the world God made and is redeeming. Tradition and innovation go together in the divine purpose that leads toward the final restoration of God's good creation.
To the extent that we both remain faithful to tradition and innovate -- even radically -- we will follow the pattern of the creating and redeeming God of Scripture, and will, therefore, flourish. This is not to say that the flourishing of human life will be apparent immediately to us in the present. After all, flourishing in the biblical sense is frequently counterintuitive. Israel wandered for 40 years in the desert, Moses never made it to the promised land and Jesus was killed -- to take only a few striking examples. But it is to say that the underlying and ultimate purpose to which our lives will be oriented will be in harmony with the work of the God of the Bible.

With over 47 million views since he first gave his now-infamous talk in 2009, Simon Sinek's "How Great Leader's Inspire Action" is a TED talk worth taking notes in. 
"Simon Sinek has a simple but powerful model for inspirational leadership -- starting with a golden circle and the question: "Why?" His examples include Apple, Martin Luther King Jr. and the Wright brothers..."
We hope you enjoy this challenging and deeply inspiring talk.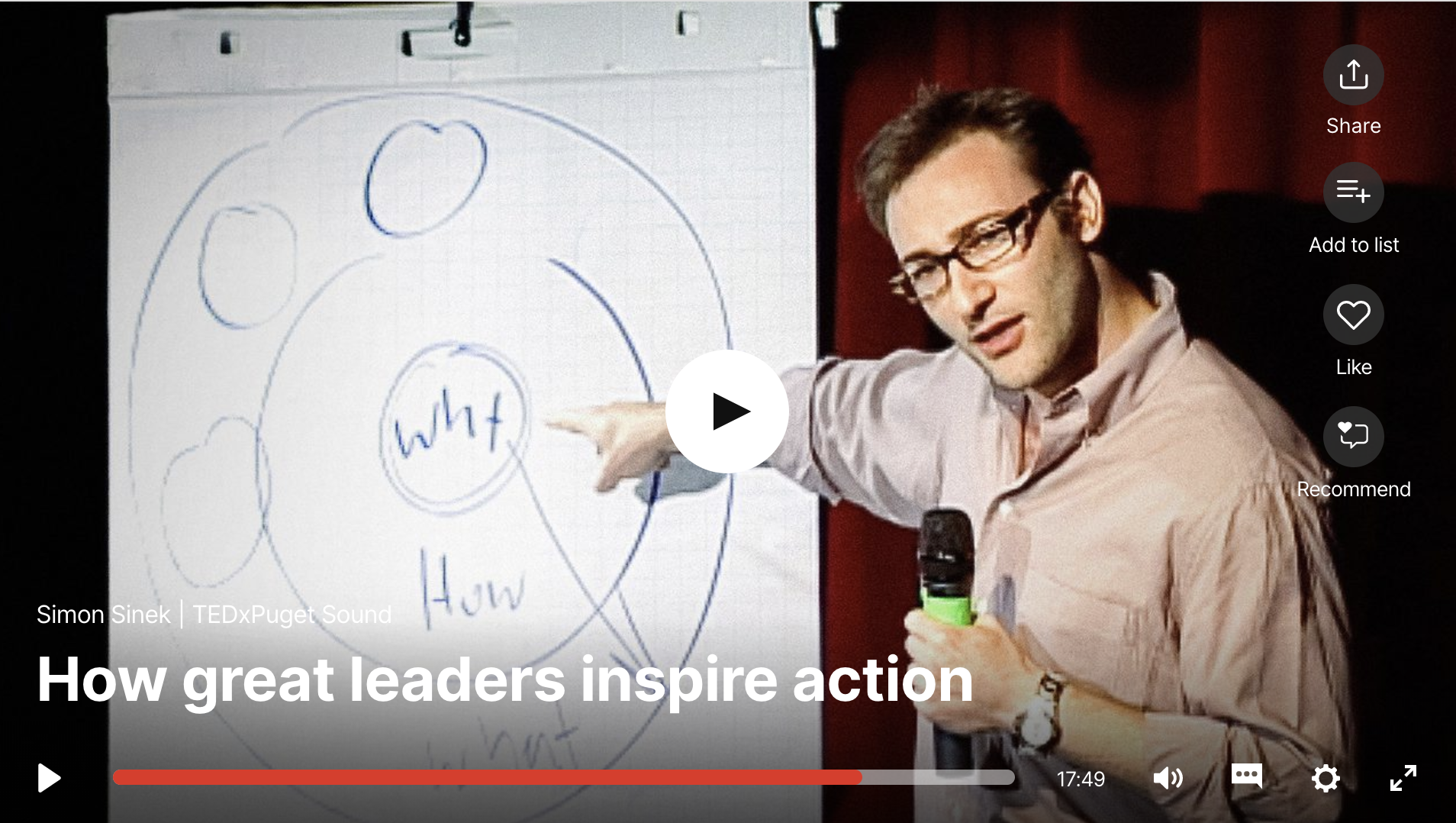 By Simone Worthing, originally published in "Others"
The Salvation Army has released $2 million for the first six months of 2019 to create opportunities for new expressions of mission in local communities across Australia.
This is in response to the "Innovation Fund" announcement by Commissioners Floyd and Tracey Tidd at Still Others in December,
This funding is to "enhance innovation at the front line of mission and serve as a catalyst for fresh and creative expressions of mission with ongoing contribution to the fund in the annual budget provision," said Commissioner Tracey Tidd, in announcing the Innovation Fund at Still Others (Watch the full video here)
The "creative expressions", aligned to the national strategy, will enable progress in the "encourage innovation" imperative, under the pillar "We will pioneer".
Commissioner Floyd Tidd, Territorial Commander, encouraged people to "start dreaming, start thinking, about how we can innovate our mission expressions".
The $2 million fund, being administered by the Army's Enterprise Project Management Office, is initially for ideas requiring up to $20,000.
For those wanting to apply, a checklist must first be completed. Applicants can also discuss their ideas prior to application to ensure they are aligned with the fund goals.
For more information and a copy of the checklist, email innovation@aus.salvationarmy.org
Notification of the first tranche of funding will be on 25 February. There will be further tranches depending on the response received.
"We are working on a complementary process for larger innovations over $20,000," said Chief Secretary, Colonel Mark Campbell. "The Army needs to start to consider new ideas to be able to grow as a movement and be able to respond to Australia's changing social and political environment," he added.

When I look into the future, I see the Salvation Army in Australia courageously breaking new ground. Our vision is big and bold, and in order to see it fulfilled we will need creativity and outside-of-the-box thinking," says Commissioner Floyd Tidd, National Commander of The Salvation Army in Australia. He sees innovation as part of The Salvation Army's DNA.
"The Salvation Army has always been a movement with a pioneering spirit. Some of our most impactful work in Australia has occurred in an innovative space."
The Salvation Army's commitment to transforming Australia one life at a time has often resulted in the breaking of new ground. For instance, in 1890, during the Depression, the Salvos established Australia's first employment bureau; in 2004, we set up Australia's first centre to address problem gambling; and in 2005, we established a first-of-its- kind, award-winning law firm, using profits from business clients to fund free legal assistance for those who could not otherwise afford it.
At the commencement of The Salvation Army's national transformation journey in Australia, "Increased Innovation" was articulated as one of six core objectives. Further emphasis has since been placed on the importance of innovation, with "We will pioneer" announced as one of the four strategic pillars in our National Strategy.
Reflecting on this particular strategic pillar, National Chief Secretary, Colonel Mark Campbell, says, "We want to improve our capacity to think differently and act strategically by building on our movement's best and brightest people and ideas. And we want to form partnerships that help us do that. We are looking to embed innovation throughout the Army. We've seen that in order to keep transforming the lives of Australians, we need to keep transforming ourselves."
Colonel Campbell adds that as we capitalise on the huge potential for innovation, we will "see even more lives transformed with the love of Jesus".
Cabinet Secretary for Business Support, Lieutenant-Colonel Stuart Evans, agrees. "This national transformation journey provides a unique opportunity for us to innovate, and we are grabbing hold of that," he says. "I see us deploying national systems and processes that will enable and support frontline mission in ways we have never done before."
So how has the national transformation journey helped us see increased innovation so far?
According to Commissioner Tidd, "much of the work so far has been about preparing the soil, addressing the drivers and barriers to innovation within territories, divisions and departments: breaking down silos, connecting different parts
of The Salvation Army that were previously disconnected. It's taken some time, but we're doing the groundwork to help ensure that innovation will be our habit, our normal behaviour going forward."
In addition to this groundwork, The Salvation Army in Australia has committed to implementing a "centrally coordinated, geographically dispersed" model within business and support services. We will locate people where they can best support frontline mission, utilising technology in our interactions so that we can accommodate a nationwide footprint.
"God has positioned The Salvation Army at the forefront of our nation as a key solution designer to assist in the solving of complex problems," says Commissioner Tidd. "I am excited by what lies ahead of us. The Salvation Army will continue to pioneer and innovate to ensure all Australians can discover the full and abundant lives that Christ has come to bring."
This is part 1 in a series on the 'whys' of the national transformation journey. Read about the national vision statement here.
Claire Hill is the Communications Coordinator for the Transition Support Team

It may seem a little strange given the age of the Salvation Army, but innovation is not a new idea for Salvos globally. A culture of pursuit to bringing hope to where it's needed most for the glory of God has always run deep within the Salvation Army.
The roots of innovation run deep as can be seen when looking back of the long history of the Salvation Army globally. From culture changing moments like Catherine Booth firmly establishing equality for women within the Salvation Army through her 1859 pamphlet 'Female Ministry' which was truly ahead of its time, to launching people focussed services like Legal and Aged Care. History tells us that the Salvation Army really was raised on a 'diet of faith-filled risk and outrageous innovation.'
Below is just some highlights of some of the most innovative initiatives the Salvos are responsible for:
-       The world's first feature film: Operating from 1897 to 1910, The Salvation Army Limelight Department was Australia's first film production company. Among its many achievements, The Limelight Department is credited with producing the world's first multimedia presentation using the moving picture film technology of the day. The film, 'Soldiers of the Cross', was produced during 1900 and the Limelight Department also recorded the birth of the nation at Federation in 1901.
-       Australia had the world's first Social Program: In 1883, Major James Barker led the way to establish the first Salvation Army social institution anywhere in the world on a permanent basis, known as the "Prison Gate" programme. Barker saw that prisoners being released from the Melbourne Gaol had nowhere to go and no work, so they inevitably re-offended and returned to gaol. Barker leased a small house in Lygon Street, Carlton, to provide accommodation for prisoners discharged from Melbourne's gaols. This led to the formation of the Prison-Gate Brigade, the members of which met discharged prisoners upon their release and offered them a home and the prospect of a job.
-       The Red Shield Appeal: In 1965, after a great deal of consideration and thought, the first Red Shield Appeal was run in Sydney as a doorknock. Never before had a fundraising appeal been held in the form of a doorknock, with friends and family of The Salvation Army banding together to visit homes across the city. The idea caught on like wildfire in The Salvation Army, with parts of Tasmania, Melbourne and wider Victoria holding their own "Red Shield Appeals" in the months and years afterward. The appeal inspired the best in the Australian people, who not only donated much needed funds but their time, effort and their talents.
Innovation, which can be described as a new idea, method or product, was present even in the early days of Booth's ministry. When Booth found himself without a church to preach in, he became a travelling preacher, spreading Christianity wherever he could and on the streets. In 1865, he was invited to preach in London's East End and was provided with a piece of land on which to preach, which just so happened to be situated in a graveyard. Despite the melancholy surroundings, the graveyard sermons became a big success and the location became the first Salvationists' base of operations, providing an unlikely point of origin. 
With such a deep history of innovation, one could be forgiven for thinking innovation just naturally happens. But what we can glean from these stories is that innovation comes from those who have an idea. Who see a need, an issue or problem and have a thought or idea about how it can be addressed.
IDEAS is a platform designed to facilitate the next era of innovation for the Salvation Army.
To remain committed to our innovative roots, it was realised that there needed to be a better way to capture these ideas. So, the first Innovation Department was born and has been charged with task of enabling the growth of the innovative spirit within the Salvos.
We invite you to take a look around, share your ideas and join us in making impact possible. 
Load more